We have a load of bugs in Tech Evangelism which are not taken care of. Usually the pattern is:
UNCONFIRMED: bug reported
NEW: analysis done ➜ [contactready]
ASSIGNED: attempt at a contact ➜ [sitewait]
one year later nothing has happened. The bug is all dusty.
A couple of scenarios might have happened during this time:
The bug has been silently fixed (Web dev didn't tell, the site changed, the site disappeared, etc.)
We didn't get a good contact
We got a good contact, but the person has forgotten to push internally
The contact/company decided it would be a WONTFIX (Insert here 👺 or 👹)
I set for myself a whining mail available from the bugzilla administration panel. The feature is defined by.
Whining: Set queries which will be run at some specified date and time, and get the result of these queries directly per email. This is a good way to create reminders and to keep track of the activity in your installation.
The event is defined by associating a saved search and associating it with a recurrent schedule.
Every monday (Japanese time), I'm receiving an email which lists the bugs which have not received comments for the last 30 weeks (6+ months). It's usually in between 2 to 10 bugs to review every monday. Not a high load of work.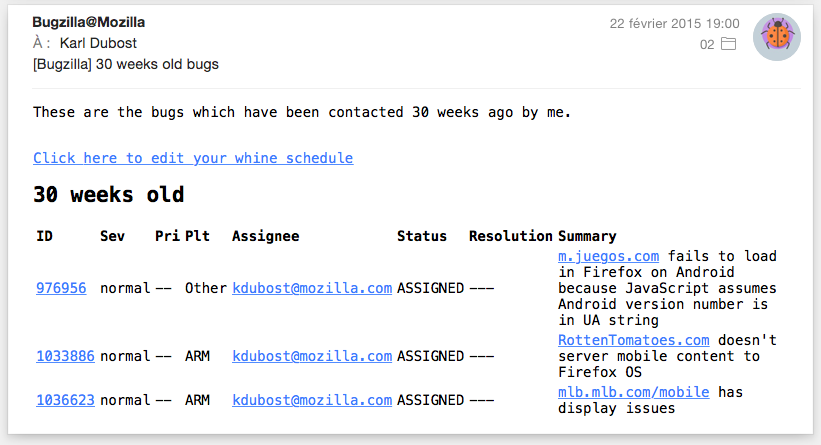 Still that doesn't seem very satisfying and it relies specifically on my own setup. How do we help contributors, volunteers or even other employees at Mozilla.
All doomed?
There might be actions to improve. Maybe some low hanging fruits could help us.
To switch from [sitewait] to [needscontact] when there was no comment on the bug for 𝓃 weeks. The rationale here is that the contact was probably not good, and we need to make the bug again has something that someone can feel free to take actions.
To improve the automated testing of Web sites (bottom of the page) done by Hallvord. The Web site tests are collected on Github. And you can contribute new tests. For example, when the test reports that the site has been FIXED, a comment could be automatically posted on the bug itself with a needinfo on the ASSIGNED person. Though that might create an additional issue related to false positives.
To have a script for easily setting up the whining email that I set up for myself to help contributors have this kind of reminder if they wish so.
Other suggestions? This is important, because apart of Mozilla, we will slowly have the same issue on 💡 webcompat site for the already contacted Web sites. Please discuss on your own blog and/or send an email to compatibility list on this thread.
Otsukare!
PS: No emojis were harmed in this blog post. All emojis appearing in this work are fictitious. Any resemblance to real persons, living or dead, is purely coincidental.